Hi Lovelies -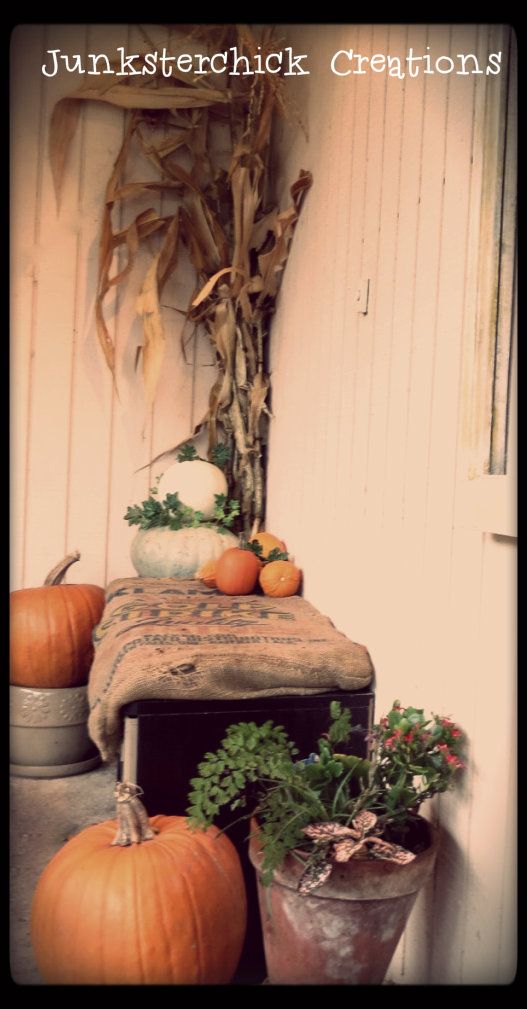 Just wanted to give a peek at some of the little pops of fall that I have placed around my home this Thanksgiving season. We've had quite a few family health-related setbacks over the last two months and as a result I haven't had much time to decorate for either Halloween or Thanksgiving. So I decided to go with a general fall theme that could be carried over both months with a few adjustments.
Take a minute and come on in...
When we went to the farm (
see here
) in October I tried to select different pumpkins that would last until December. My dad was kind enough to give me some of his cornstalks from the garden again this year for a nice backdrop and I added the pumpkins that Mr. Man picked out this year together with squash from our neighbors' yard. Funny thing... we didn't carve any pumpkins this year! I placed an old gunny sack (that I purchased for a dollar at a vendor at the Coburg Antiques event in Coburg, Oregon 2 years ago) over my bench cushion for a little more rustic look and added a pot of plants that were out on the patio table over the summer.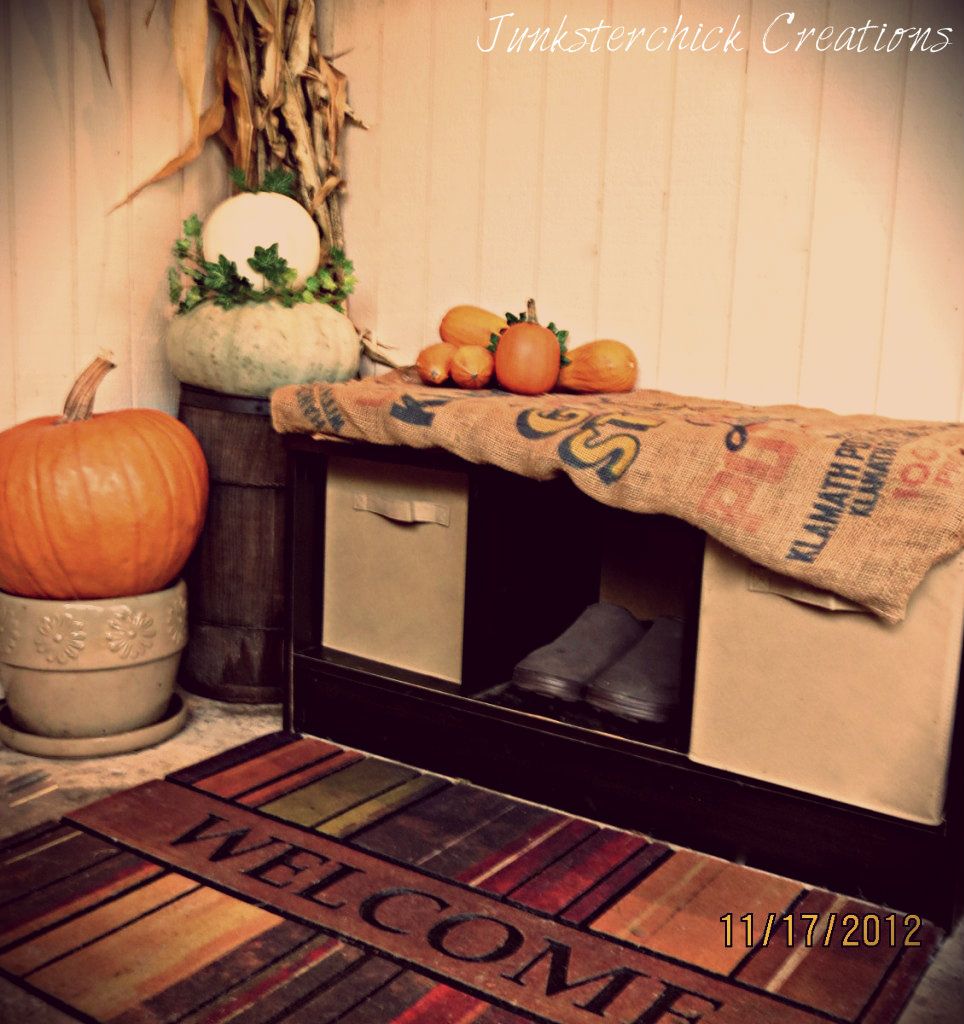 The wooden container I got at a terrific yard sale over the summer and housed potted yellow zinnias last month, I love the texture of the green pumpkin and white pumpkin (stacked on top of each other with faux ivy garland wrapped around them in the back). I got this great new
welcome mat at a home improvement box store last weekend to complete the porch. I love the colors of the mat and its made of recycled tires which will make it durable for the rainy season ahead.
When you step inside our home the first thing that you see is the hall leading to the bedrooms...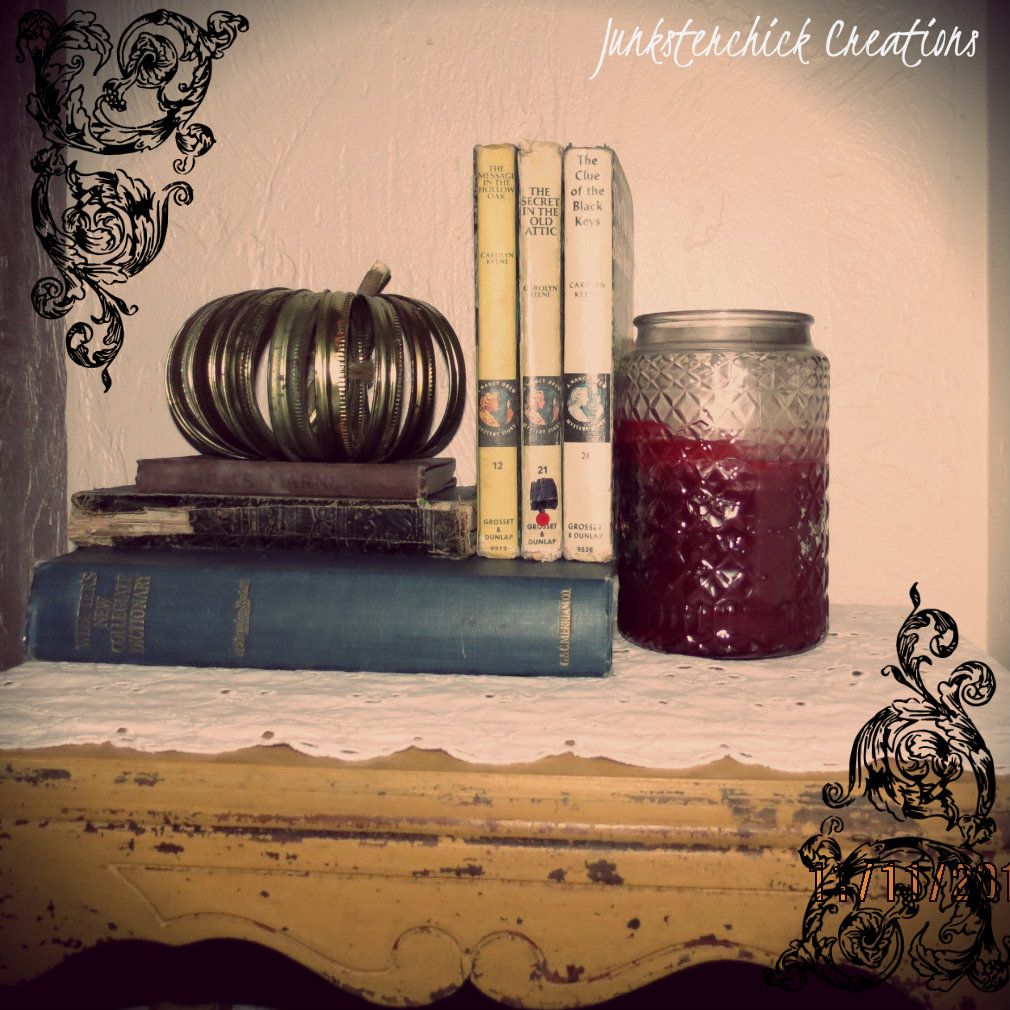 The little chippy table I did in our hall (
original post here
) is decorated with a white table runner with some pretty scalloped edges, a couple of old books stacked here and there, including my Nancy Drew books again, together with my take on a canning jar lid pumpkin (seen on Pinterest). This is one of my little ones. I used a piece of a branch from the trees in my yard for the stem.
I cheated on these smaller pumpkins (I made 2) by only doing half pumpkins. It takes quite a few lids to make a full pumpkin and try as I may making a complete smaller pumpkin wasn't working so I did 2 half ones... You can't see the back any way and they fit better against the wall for me (I got these random lids at a garage sale and then I left them out in the rain where they received a terrific rusty patina). I rounded out my little table with a candle with a cranberry/orange scent which I ordered from Mr. Man's co-worker who was hosting a Gold Canyon candle party. This is a double wick candle that is both pretty and functional. I bought other candles from them and so far I really like the quality of their product and its made in the USA!!!! Gotta love that. The candle acts as a bookend for me and it is pretty when it is lit and smells amazing.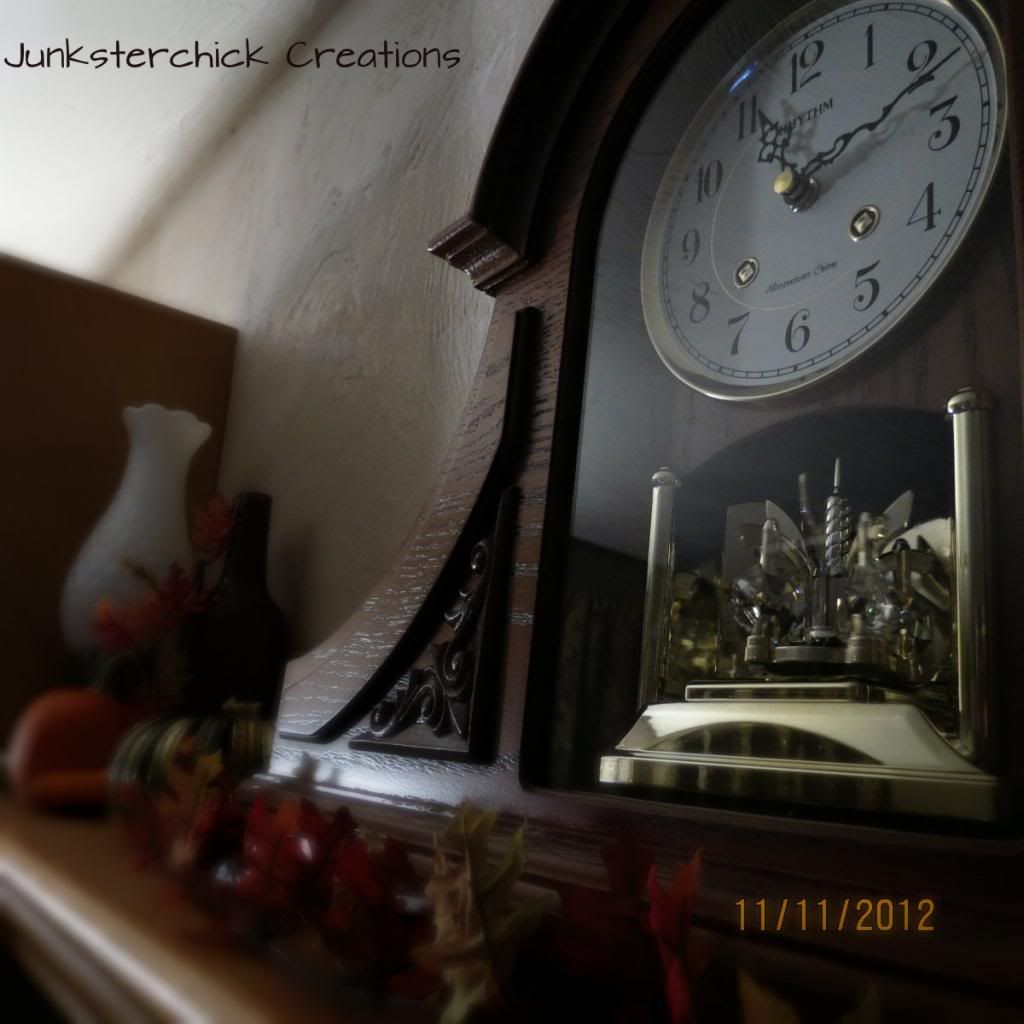 I have a thing for clocks - Mr. Man bought me my own mantel clock last Christmas- I just love it! It plays several different songs including a couple Christmas tunes like "Joy to the World". It also has the standard Westminster Abbey chime that will ring on the hour and half hour. I drove my kids CRAZY with the Christmas tunes last year and settled for the simple chime throughout the year up until the time change. It also has a volume button on it so we turned it up a bit and put on a peppy melody for Thanksgiving. Every hour I hear that little melody and no matter where I am in the house I smile...
I decorated the mantel with a multi-colored leaf vine that winds around a little mini pumpkin we picked up on our outing to the farm last month, together with another canning jar lid pumpkin I made. I added a brown bottle that Mr. Man and I picked up a couple years ago at a progressive garage sale (The gentleman gave us a whole box of misc. bottles for FREE!) and a milk glass lamp that I picked up at a garage sale for free!
JUNKSTERCHICK TIP: When at a sale, many times the last day of a multi-day sale or the hours right before the close of a sale sellers are more apt to giveaway items, put them in their free boxes or discount larger items they don't want to haul back into their garage. It is a perfect time to negotiate.
Here is the other corner of my mantel, it includes several different textures and colors - once again I repeated many of the same elements to balance out the total look of the mantel by incorporating the little orange pumpkin, a bumpy squash from my neighbors, the leaf garland and a full size large canning jar lid pumpkin. This one has a brown paper stem which I twisted and curled to give a more natural look. I elevated it on a white ceramic candle pillar for some height and added the teal colored glass canning jar for a pop of color.
Below is the finished mantel - the wood duck to the right of the clock is one of a few survivors from Mr. Man's beloved duck collection that he has collected since he was a teen. Over the years he's cut down on his collection and packed many away for safe keeping (we have lost a few over the years due to curious little fingers). Its the perfect fall touch.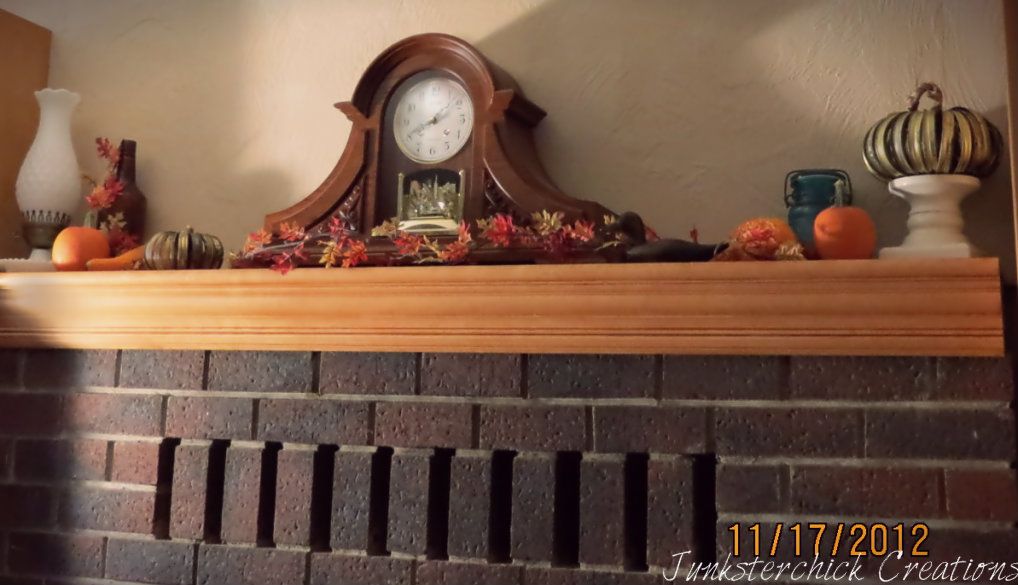 Thanks for stopping by may your Thanksgiving Day be a wonderful time full of family, food and fun.
I am linking this to:
Be Blessed ~